1985 RX Turbo
Originally owned and raced by Ian Hill
2nd in the 1986 ARC
I found this rusting in a shed with a damaged roof from a tree falling on the shed it was in, and thought the car should be restored and raced.
We shall endeavor to keep a log of its progress here….
As it came from the shed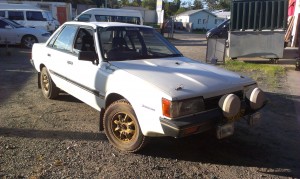 Roof skin off and the rear half of the rollcage removed for upgrading to the current CAMS rules.  Some minor rust repairs around the rear window and boot.
New front driveshafts, repair Turbocharger piping and replace gaskets, replace timing belts and water pump, fit stock radiator while we wait for the alloy one to be made, rebuild rear brake calipers and caliper slides.
Throw out the old seats as they are crumbling and replace the harness'
In the facility at Woolgoolga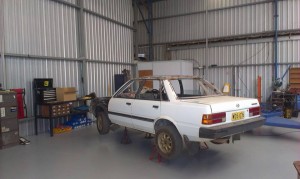 Now the interior, and some more of the exterior has been stripped.
The roll cage will be rebuilt to current specifications allowing access to any event, and seat mounts remade. The Bilstein shocks have been removed, cleaned up and inspected. Some rust around the window has been cutout and new zinc plate welded in place.
There is a lot of work ahead of us but still looking for January completion, and competition in 2015.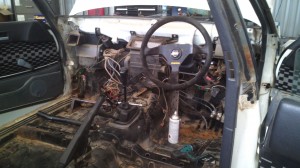 Ok so we went a bit further than first thought necessary, but hey….at least we know its right now!!
Sill stand mounts in and floor and gearbox mount seam welded, new 3mm cage pads installed.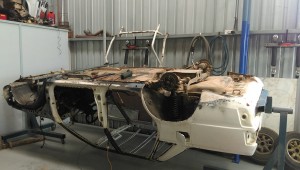 New cage meeting CAMS current spec lightweight and still retaining some "crumple" zone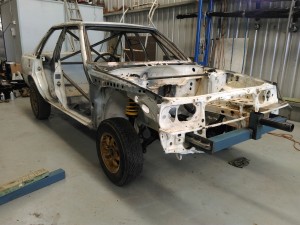 A lick of paint, many thanks to the guys at Greg Hennessey Smash in Woolgoolga.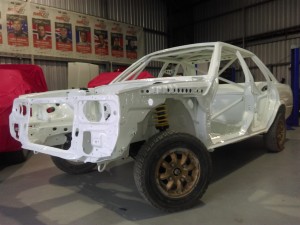 Seats and Harness'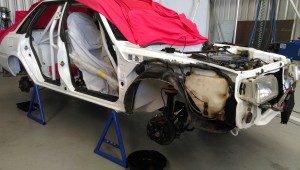 Doors Guards boot and Bonnet refitted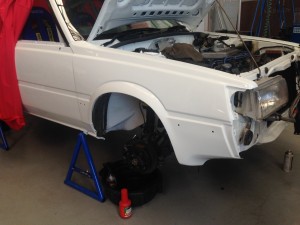 New Flush mount bonnet pins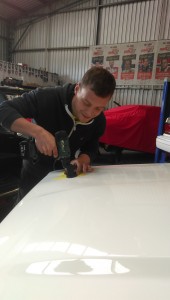 We are very pleased with the finished product, A complete once over and fresh paint and a new 2015 CAMS spec cage.
Thanks to all our sponsors  that helped make this possible
Greg Hennessey Smash Repairs
Leonard Mufflers
Redpoint
Coffs Harbour Auto Electrical
One Printing and Signage